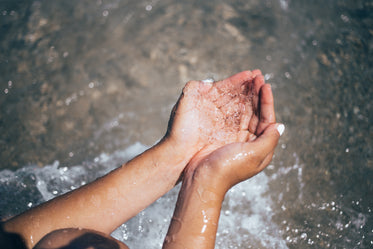 During these cold months, you may notice a difference in the texture and plumpness of your skin. Harsh winds, lack of humidity and heaters are sure to leave your skin feeling rough, dull and more sensitive than usual. But what's really going on with your flaky skin? There are differences in the causes of dryness that are important to know about. It may be that you've been treating dry skin when really your skin is dehydrated (or vice versa). Using the wrong products won't help tackle the underlying issue. So let's find out what your skin really needs!
Dry Skin is a skin type that lacks oil, generally determined by your genetics. Other factors could be an underactive thyroid or hormonal imbalances which will inhibit the natural production of oils that keep the skin protected. A dry skin will have very small pores, and will hardly show any breakouts. Sensitivity, redness, rough patches and fine lines are all common for this skin type.
Dehydration is a skin condition, meaning it's temporary and caused by external factors. Dehydration is when your skin is lacking water content. It often feels more taught, flaky, itchy and less supple. It can be caused by over exfoliating, poor diet, harsh soaps/stripping cleansers, too much sun, cold weather or other environmental factors. Dehydration may also give an undesirable shine to the skin, mistaken by some as too much oil, leading them to harsher cleansers and more exfoliation making the condition even worse. Try Skin care expert Joanna Vargas easy test: gently pinch the skin on your cheek, and if you see really fine lines, this is dehydration. Check out this video for a visual. https://www.youtube.com/watch?v=iWTTBqnvDsE
With dry skin you are lacking oil and dehydrated skin,
you are lacking moisture.
How to Treat Dry Skin
It's important to nourish dry skin with oil-based products. Richer moisturizers are best as they will provide your skin with the necessary oils to protect your skin. Both our Coconut Age Corrective Moisturizer and our Eight Greens Whip Moisturizer are my favorites to use on dry skin types.
Coconut Age Corrective Moisturizer: contains shea butter and grape seed oil which will lubricate your skin with triglycerides and fatty acids. Chicory Root and Tara Tree are collagen boosting and will help reduce fine lines. This regenerating moisturizer leaves the skin feeling smooth and full of lustre. It smells really good too!
Eight Greens Whip Moisturizer: contains flax seeds which are high in Omega 3's and helps to heal and protect the skin. Paprika makes this moisturizer stimulating and oxygenating. Stone Crop will hydrate, heal and calm sensitivity.
How to Treat Dehydrated Skin
The goal for dehydrated skin is to retain the water content. Serums are highly effective in accomplishing this. My absolute favorites are the Strawberry Rhubarb Serum and the Stone Crop Serum.
Strawberry Rhubarb Serum: This one is great because it has hylauronic acid extracted from the marshmallow plant. Hylauronic acid holds 1000 times it's weight in water. It is one of the best things a person could use for dehydrated skin. This serum also has aloe which is calming, hydrating, alleviates the effects of UV radiation and will soften the skin. The strawberry and rhubarb will nourish the skin with Vitamin C, and honey will give it even more moisture. This is one of my favorite serums, I use it every day under my moisturizer, and if I miss a day I seriously regret it!

Stone Crop Serum: If you've never heard of Stone Crop, it's basically an Aloe Vera plant on crack. Everything Aloe does, stone crop does better! It's very hydrating, healing, calming, assists in regeneration and will even lighten pigmentation. Green Tea is added and is rich in antioxidants to protect against cell damage. This serum will balance out your skin tone, improve blemished areas, firm and soften your skin. Use this every day under your moisturizer and watch your youth return!
Extra Tips for Dehydration
What you eat will give your skin an added boost to care for itself. Watermelon, celery, cucumbers, cantaloupe and apples are just a few to consider adding into your daily habits.
Keep a humidifyer in your bedroom during the winter. Heat in our homes, cars, and work take all the moisture from your skin!
Wash your face with lukewarm water. Avoid long hot showers as the heat will suck out more moisture from your skin. And apply your serums and moisturizers no longer than 5 mintues after getting out of the shower.
It's often hard to distinguish between dry vs. dehydrated skin, so we do encourage you to come in to see us if you're unsure, so we can find the right products for you!